From West Virginia to Colorado, Kentucky to North Carolina, public school teachers across the country have gone on strike or walked out over work conditions– in a strong rebuke against the policies of privatization and austerity that have undercut the very foundations of the public education system.
Last week, teachers in Oakland, CA organized a seven-day strike with demands for smaller class sizes, more support staff (nurses and social workers), better pay, and an end to school closures.  This, in the context of resources being moved from the Oakland Unified School System (OUSD) to charter schools that continue to open up and pull more students away.
One teacher, Linh Linh Trinh, is a Seeding Change alum whose school is slated for closure at the end of this school year.  Linh Linh began teaching in 2017 as a middle school science teacher. Over the course of her first year, she shared stories of challenges and triumphs that were telling of the poor working conditions teachers face, but also the resilience they lead with. Last week, Linh Linh reflected on the necessity of the strike, writing, "There is some seriously deep injustices happening in OUSD – some schools already have smaller class sizes and I'm still dealing with 33 in a class; some schools have expansion plans and my school is carelessly being closed, and I do not have long time veteran teachers to learn from because they've all left the district due to low pay…My [students] deserve to be prioritized and loved up with resources. We need to stop privatization of public education. The money needs to be in public schools so they can be better funded and for us not to fight one another for the crumbs."
With the strike having ended, we wanted to highlight the work Linh Linh did in speaking up for the students at her school as they are facing closure, in striking with Oakland teachers, and what is coming up next.
---
SC: This is your second year teaching at Roots International Academy. In your first year, you shared the challenges of being a new teacher who wasn't aptly supported. This year, the district voted to close your school, which is a school that serves mostly students of color and working-class students. How will this affect your students?
LLT: Around early October-November, there was buzz that the District would release a city-wide plan to close 24 schools. They planned that a number of schools with shared campuses would merge and a number of schools would be closed. My school, Roots, was on the list of closing schools, but it seemed like a far away thing; however, we were told during Thanksgiving break that the closing could be this year or next year.
The difference between a merger and a closure is that in a merger, students still get to go to the school – the school is just under a different name and administration, but the students are not displaced. Roots is getting closed even though we share a campus with another school. The biggest issue with all of this is displacement– they're planning to send Roots kids to schools 30 blocks… two miles away. We have about 100 kids that live in this neighborhood, who want to go to the school that we share a campus with, but the school says that they cannot expand quickly enough to take the kids from Roots. The decision to close the school this year and displace over 100 students is in the hands of just a few people who are NOT from the community and who did not ask what the community wanted. I think it's easy to do this to our school because our families are working-class, our parents don't speak English, and it's easier to target communities who don't know the system.  
SC: What are actions you took after learning about the closure at Roots?
LLT: We found out about the closure during Thanksgiving break. When we came back, a veteran teacher that I share my classroom with, Ms. Mary Scott (who grew up with the rise of the Black Panther Party), encouraged us to do something about it.  A fellow teacher, Quinn Ranahan, and I organized our teachers to meet at our house to figure out where we all stood on the closure. Our principal told us the news of the closure individually and broke us up so that we didn't have a collective voice to stand up. In the short two months we had before the school board's final vote to close our school, 3-4 Roots teachers held strategy meetings and started talking to school board members; we had several meetings with our California assembly member, Rob Bonta, and his office. During these meetings, we realized that the issue of Roots being closed is tied to a larger issue of privatization and poor budget management. The district claims that they need to cut school programs and close schools to show that they are "financially responsible," because of bill AB 1840, that is specifically school districts, such as Oakland and Inglewood, who are in debt to the state. This bill says that if our school districts show that they are fiscally responsible, then the state would cut the debt by 30 million dollars. But the brunt of the district figuring things out falls on the teachers and students.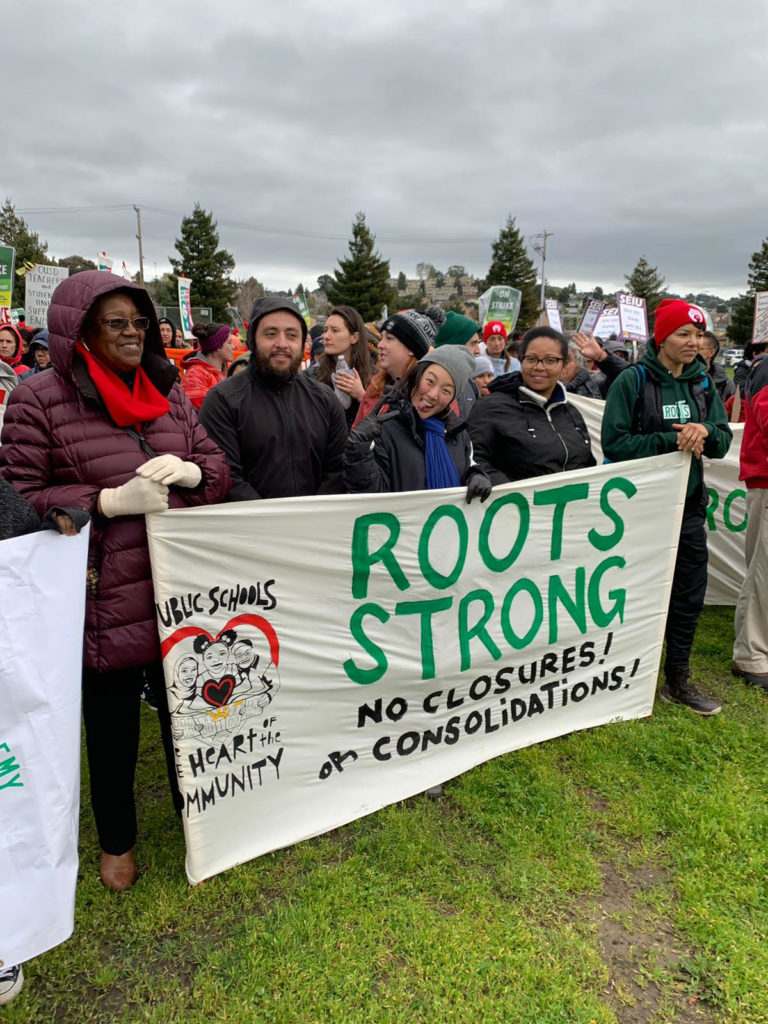 SC: What changes need to be made so that you feel more supported as a teacher?
LLT: During this process, I started to look into other schools and talking to other teachers. I learned that some schools in our district are held at very different standards and have different resources. I think all schools should have those same resources – we need to have classroom sizes that are at most 27 students, we need to be fully funded so that teachers are not spending out-of-pocket to supply the classroom; we need fair pay; we need more support in terms of counselors and nurses. We only have 22 nurses in the whole district and each nurse has to visit 4-5 schools as part of their job. We need to keep pushing and challenging what education should or can look like – one that widens the definition of success.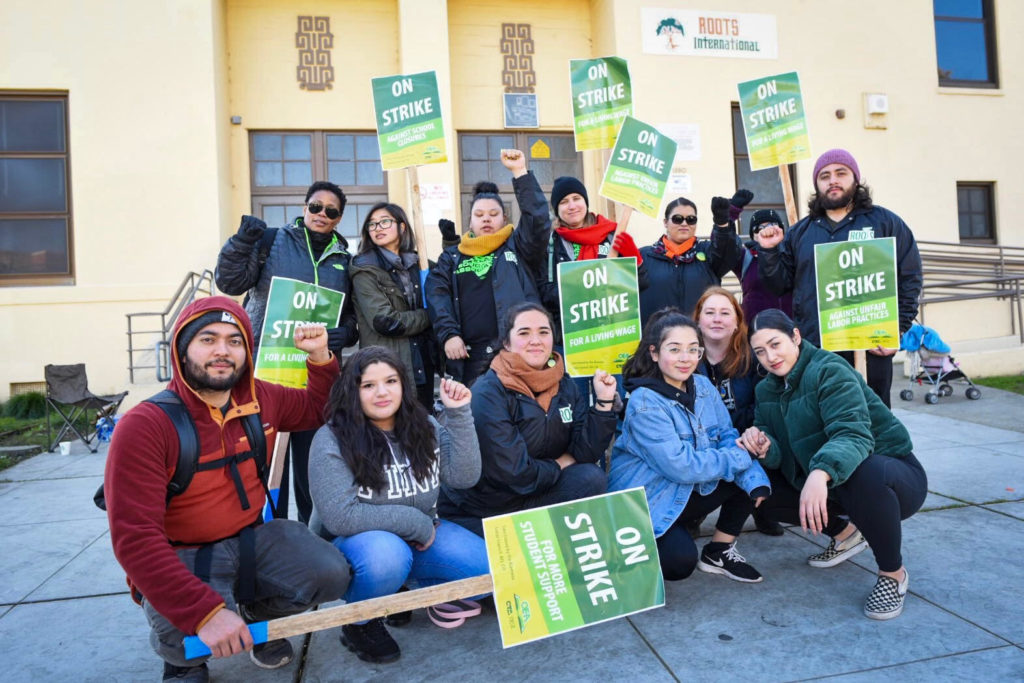 SC: What fueled the strike and can you share what you felt as the strike was happening?
LLT: As our school community was still making sense of the school board's 6-1 vote to close our school, we also had to emotionally and mentally prepare for a strike. Oakland Unified School District and Oakland Education Association – our union – had been in negotiations since 2017. That pressure built up until November-December and we knew a strike was coming. As the number of people who was down to strike increased, we added a fourth demand for no school closures.
While on strike, most people became invigorated because of the "no school closure" demand. On the first day, we had Roots students and teachers speak to the crowd about what this strike meant for us and why we were demanding no school closures. By the fourth day of strike, we got all of the teachers to rally from East Oakland – to walk from the school that our kids would be displaced to, to Roots, which is about 2.5 miles. It was symbolic of the changes that students at Roots would experience. During the strike, there was a lot of emotions and anxiety about whether or not we would get all our demands, and how we would go back to the classroom. It was physically exhausting as well. But I got to know a lot of other teachers and there was a strong sense of community.
SC: What were the moments of joy you felt, despite the challenges?
LLT: At Roots, I feel like we became really divided and lost a sense of community when the decision was made by the district to close our school. We really had to work to rebuild our community and look out for each other. One community member came out and made a coffee stand for us, one of our teachers started a mandela. Some of our students led a march and spoke in front of so many people. It was good to have teachers who had never been to East Oakland visit East Oakland and it was beautiful to see our actual families cheering for us during the rally because most of our rallies were in Downtown and most of the people who would come out and see us were in suits, people who probably didn't even live in Oakland. Overall, there was an immense sense of community.
SC: What are some lessons and reflections you can share from the organized strike, rallies, community events supporting teachers?
LLT:  When teachers in  Los Angeles went on strike before us, my parents would tune in to the radio and people would call in asking "why teachers need to get a raise when they earn enough. There are also some bad teachers who don't deserve a raise." My mom said, "well, they don't have a daughter who is a teacher."  It's important that people understand the challenges of being a teacher and from my perspective, the union did a really good job, prior to the strike, of getting the community to understand where the teachers were coming from. I think we did a really good job of having community support us.
When we got the tentative agreement, I was definitely disappointed, realizing how much energy and effort it took to organize and get to that scale of action.  It took 3,000 teachers and 36,000 students to not go to school. I'm trying to remind myself that striking is only one tactic and it can only bring us certain results and won't always bring all the changes we need.  For example, the class sizes decreasing just one student per year, felt little. These proposals don't do anything for schools like Roots where going from 33 to 32 students per classroom won't make much of a difference.  While what we got in this agreement is not enough, we were able to change the conversation around public education and investing in teachers and students. Oakland is a part of the larger movement for systemic change. Hopefully, other cities who strike after us can gain from this momentum and make the changes that need to happen. 
SC: What are the next steps for the Oakland School District?
LLT: Teachers are planning to organize at the state-level in Sacramento to demand a cut in debt. For the school board, specifically, three or four members' terms are ending soon so we are strategizing on how to get these people out of office and replaced by people who will serve our community. More schools are supposed to be closed or merged, so I'm thinking about how I can personally support other teachers at these schools based on my experience and story.