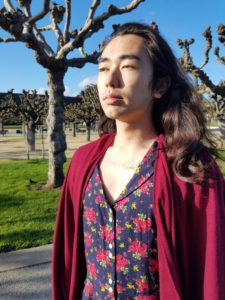 Derek Ching [they/he]
Hometown: Cupertino, CA
Placement: CPASF
My name is Derek Ching, I use they/them pronouns, and I am from Cupertino, CA, and excited to be working with Chinese Progressive Association! Being queer, mixed, and 5th gen has led to a lot of unique interactions when considering Asian American history and the present context. The hidden histories of both queer folk and those in the diaspora weigh against me being visible, valued, and connected to my community in ways I experience every day. Access to learning about my position and history through ethnic studies programs at SF State has shown that the way power is abused and the injustice those in marginalized positions experience is cyclical, and will continue as long as there is no action against it. My silence helps no one but the oppressor. These teachings propelled me towards thinking about how to best contribute to the collective liberation of all peoples. Seeding Change represents to me a way to hone that intention among people and orgs that share the sentiment and begin that path of using my voice and my power. I hope that I can use what skills I learn to stand up when it's difficult and win when it's necessary.
 Alex Chuang [they/them]
Hometown: Seattle, WA
Placement: CPASF
I'm a second generation Taiwanese American who grew up on unceded Coast Salish and Duwamish land, otherwise known as Seattle, WA. I currently am a student of American Studies at Oberlin College, and am dedicated to campus organizing around energy justice and anti-austerity. My roots lie in climate justice movements and the nurturing mentorship of powerful women of color organizers in Seattle, but recent experiences abroad, in organizing, and in the classroom have created deep shifts in the way I understand the world and my place within it. The people of Seattle's current fights against a new youth jail, gentrification in the Chinatown International District, budget cuts for schools of low income black and brown students, immigrant deportations and detention centers, and much more, all point to the ways in which the city is continuing to consume communities of color in pursuit of their capitalist dreams. Recognizing how our struggles in Seattle and SF are connected, and honoring the value in collective struggle and collective learning, I hope that my time at Seeding Change and Chinese Progressive Association will start a process of really understanding what it means to do community organizing against a system that often seems larger than we can ever really handle. I see the work that CPA does as connected to a larger global struggle, and I hope to engage with how the international and internationalism exists at home, through this organizing. I have no doubt that this time will be transformative, one that I will hold with me and bring back to Seattle, and anywhere else I go.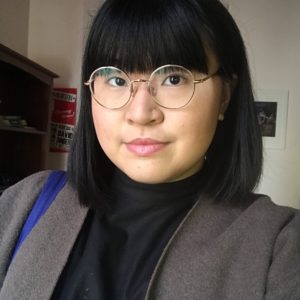 Emily He [they/them]
Hometown: Vancouver, BC – unceded Coast Salish Territories
Placement: CAAAV
I'm Em (they/them)! I'm currently based in NYC/Lenape land, but grew up in so-called Vancouver/unceded Coast Salish Territories where I first got involved in community organizing through anti-displacement efforts in Chinatown. I will be continuing similar work as a fellow at CAAAV: Organizing Asian Communities in NYC's Chinatown. By being a fellow, I hope to learn more about the power of intergenerational organizing, what it means to be a part of an Asian American movement, and how to build collective grassroots power.
Yayin He [she/her]
Hometown: Boston, MA
Placement: CPA Boston
My name is Yayin He. I am a Chinese immigrant, who moved to the U.S with my family in 2013. I am the first generation going to college in my family, and I am currently a Sophomore student at University of Massachusetts Boston. I have been working at Chinese Progressive Association in Boston as part-time staff, thus having more chance to get involved with the Chinese community. I long to know more about the Asian American community, nationally, which led me to apply for the fellowship. What I hope to gain by being a Fellow is to meet more people and learn more different skills from others' experiences through the different opportunities provided by this fellowship. Then, I will use the skills I gained from the fellowship and apply them to my community in the future, in order to improve our communities to be better in greater Boston.
Othelia Jumapao [she/her]
Hometown: Royal Palm Beach, FL
Placement: NCAAT
My name is Othelia Jumapao. My pronouns are she/hers, and I grew up in Royal Palm Beach, FL. I have the honor of working with North Carolina Asian Americans Together in Raleigh, NC. After my time in Washington, DC interning with the Asian Pacific American Institute for Congressional Studies, I knew that I wanted to interact and uplift constituents on the local community-level. I hope to gain greater compassion for communities that do not necessarily share my struggles—as a Pilipina American from a single parent home. I would love to learn how organizers integrate art into their activism and continue to bolster their creative energy. Beyond Seeding Change, I want to apply the skills I have learned to build a radical Asian American movement in the Deep South especially in my home state of FL.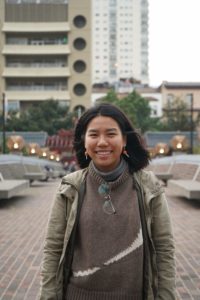 Holly Lin [she/her]
Hometown: Shanzhou & San Francisco
Placement: FCC
I am a first generation Chinese immigrant from a working class family in San Francisco. During high school, I found my chosen home at the Chinese Progressive Association's youth program, Youth Movement of Justice and Organizing (YMOJO). At YMOJO, I became politicized and organized with my fellow peers around Proposition 55, a bill that would increase educational and healthcare funding and a mental health campaign, which has now become known as "Our Healing in Our Hands." When I entered California State University, Northridge (CSUN), I was seeking a space for Asian American student organizing which led me to become an intern at the Asian American Studies Pathways Project (AASPP) and a member of CSUN's Student of Color Coalition. At the center of my work right now is resisting the Executive Orders which has destroyed CSUN's unique developmental math and writing programs and will destroy our Ethnic Studies, Gender and Womxn Studies and Queer Studies departments in the future. Through this I learned about the power and challenges of interracial organizing. I hope that at Seeding Change I am able to learn more avenues for organizing to achieve more tangible wins at CSUN. In addition, I will strive to build with other Asian Americans through our stories of resistance. It is my vision that as I work to transform CSUN into a better university, I am doing my part in transforming my community back home.
Long Luu [he/him]
Hometown: Pennsauken, NJ
Placement: Vietlead
My name is Long Luu (he/him/his). I spent my whole life living in New Jersey. In the past I have gone through political education workshops as a high school youth and have been intrigued in social justice issues since then. Primarily I was active in high school but as college rolled around the corner, I became in-active in keeping up to date with issues that were popping up. I went to college to be a teacher, however after learning more about the curriculum used in public schools and common core in general, I strayed from the path of a teacher. Getting in touch again with social issues happening internationally, nationally, and locally, I wanted to work with with high school youth to teach them about what issues are happening in their own community, which is what I am currently doing. I was told to apply to the fellowship by many peers because they had went through the fellowship and come back with many skills, comrades, and connections to fight against social injustices. I would like to do the same and come back with what I can, so that my youth can also learn from different skills and people to fight back injustices in their communities.
Neary Narom [she/they]
Hometown: Philadelphia, PA
Placement: PrYSM
My name is Neary Narom and I am a 1.5 generation Khmer/Cambodian. My passion lies within empowering Southeast Asian youth through the dialectical tool of providing spaces for empathy and healing while also offering them the language and terminologies to articulate their power and become politicized young adults. Growing up in a low-income Khmer family, I knew that the entire compass of our lives was nothing close to that of the mainstream Asian American image of the model minority. But in addition to that, I also know that nothing in my life as it is now is purely just a matter of coincidence and that it cannot be thought of and understood without the remembrance and historical context of the world we live in now as well as the worlds that existed before us. I like to think that I have generations of appetites to feed. Appetites as in the intergenerational cravings of my ancestors who were suppressed of their ability to obtain knowledge and celebrate their resilience. Through this fellowship, I hope to foster deeper connections with Khmer community leaders and apply tools of grassroots organizing into my academic trajectory as well as amplify all of the intergenerational narratives that are asking to be voiced and liberated through me.
Sophie Pham [she/her]
Hometown: Temple City, CA
Placement: CPASF
I am a queer, second-generation Vietnamese American born and raised in Temple City, CA. As the daughter of Vietnamese refugees, I didn't fully understand and analyze the impact of my parents' experiences of escaping Vietnam until I came to UC Davis. After taking Asian American Studies courses and being introduced to the Southeast Asian community in college, I began to better understand what it meant to be Southeast Asian and share refugee family hxstories of escaping war-torn areas. My passion for activism and organizing also evolved from seeing other marginalized students, workers, and professors organize around issues they care about and injustices they saw and experienced. I recognize my privilege in being able to access ethnic studies classes and hope to use the knowledge I've learned in academia and make it accessible to all communities, as well as learn from community experiences and knowledges. As someone who is newer to organizing, I also hope to learn how to advocate with my community and organize in solidarity with other communities. I would like to use the skills I gain in the fellowship in any future space, and use them to work towards imagining alternative futures and healing!
Pouelinna Po [she/they]
Hometown: Long Beach, CA
Placement: KGA
I am a Cambodian-American Womxn, born and raised in Long Beach, California. I have been actively involved with Khmer Girls in Action since 2011 when I was only 14 years old. As a teen, I recognized the injustices that my community was up against. Being a member of KGA I was able to understand and connect root causes to fighting for systemic change. As a youth leader, I advocated for language access, healthcare for all, and school- based wellness centers for youth and teens. This experience has empowered me to lead for social justice and it has deepened my love for my community. I hope to build a louder voice for the Southeast Asian Community in Long Beach by educating and mobilizing them to get out the vote!
Jenna Saefong [she/her]
Hometown: Richmond, CA
Placement: APEN
My name is Jenna Saefong and I use she/her pronouns. I am a second generation Mien-American from Richmond, Ca. Growing up in an environment where Asian Americans were the minority amongst other minorities, I was ashamed of my identity during my upbringing, but would now like to embrace it. I want to embrace my heritage in a way where it is beneficial to everyone and can create a positive impact. By participating in this Fellowship, I wish to learn how to work with others from different parts of the world and gain a wider perspective of the hand on experience of working towards civic engagement. I'm fairly new to the world of politics and environmental justice and may not be as knowledgeable as most but am putting all my effort towards learning. My main goal is to grow and just learn. I hope to gain a community of people who are just like me, putting an effort towards bettering our own communities and educating others with my newfound knowledge that I've gained from other driven fellows!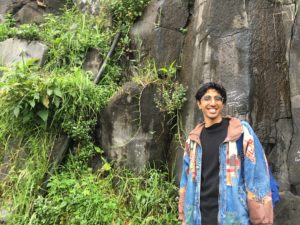 Akash Singh [they/he]
Hometown: Queens, NY
Placement: APEN
My name is Akash and I use they/he pronouns. I was drawn to apply for the Seeding Change fellowship because I wanted to develop the necessary skills to better build with my community. I grew up in a Guyanese, working-class family in Queens, New York. I don't believe I was very conscious of wealth inequality growing up. In fact, I don't really think I was conscious of all the privileges that were supposedly missing from our lives. After joining DRUM in high school, I began to see the ways that our lives have been profoundly affected by the exploitation of wealthier folks in our city and the ways that my family's lives have been determined by globalization and u.s. hegemony. Around this time I also came into contact with my own queerness and began to see the ways that my experience was widely different from the dominant white-gay narrative. Feminist theory and conversations with friends helped me to better understand my place in all of this. As a feminist, I believe that reforming and questioning our relationships to each other and the world has the potential to create much needed social and political change. This summer, I hope to learn more about what organizing looks like outside of New York and become familiar with the strategies and histories of organizers in the Bay Area. I think I have a long way to go in terms of learning about what organizing is about and how we should be building leadership and power within our communities. I'm hoping to find the answers to some of these questions this summer and continue to work on them from within my own community back home.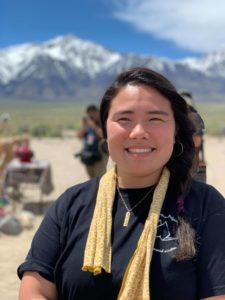 Miya Sommers [she/they]
Hometown: Berkeley, CA
Placement: AAAJ – Chicago
Hello community! My name is Miya Sommers, and I am honored to be a 2019 Seeding Change Fellow at Asian Americans Advancing Justice – Chicago. My journey has been framed by the resilience of my maternal great-grandparents who survived WWII incarceration and the atomic bombing of Hiroshima. In navigating inheriting their intergenerational strength and trauma, I've been drawn to organizing spaces that offer me the tools to build liberatory futures for communities of color. My most recent step has been to develop those spaces in Nikkei communities as an organizer for Nikkei Resisters, an intergenerational coalition of Nikkei activists in the San Francisco Bay Area. As my work has expanded to participating in national and international campaigns, I hope to spend this summer learning more about how community organizations empower their local communities while coordinating with partners nationally to improve the lived experiences of communities of color. In deepening my practice of self-love and self-healing, I like to spend time making block prints, growing flowers, and going on hikes with my dog, Coco.
Angela Subido [she/her]
Hometown: San Diego, CA
Placement: FCC
My name is Angela Marie Subido and my pronouns are she/hers. My identity as a second generation Filipinx-American has greatly impacted my interests, community engagement, and overall career path. Because of this duality of Filipinx and American culture, I had to negotiate my identity and make sense of what being Asian American means to me. At a young age, I served as Treasurer for my high school's Asian International Association, and as a community liaison to cultural organizations across San Diego. My first experiences of Asian American leadership in my hometown inspired me to further my understanding of API issues when I got to college. At the University of California, Santa Barbara, my participation in Kapatirang Pilipino and Pilipino Cultural Night allowed me to dive deeper into the history of my heritage and examine myself as a cultural being. This past Spring, I graduated from UCSB with a major in Asian American Studies and minor in Applied Psychology. Collectively, these experiences have inspired me to become an advocate for the mental health, well-being, and solidarity of the Asian American community. With Seeding Change, I hope to apply the knowledge I have gained from my classes and past community involvement to tangible change working with my host site, Filipino Community Center. As a fellow, I look forward to listening to the valuable stories of my peers, learning organizing strategies of mentors, and watching myself grow both personally and professionally. In my future endeavors I plan to create projects that make space for Asian American mental health conversations. My vision is to become an advocate for Asian American youth, young adults, and families, supporting them in fostering healthy relationships and deconstructing the stigmatization of mental health in the API community.
Minh Tran [he/him]
Hometown: Philadelphia, PA
Placement: Vietlead
My name is Minh and my pronouns are: he/him/his. I moved from Vietnam to the US 9 years ago and have lived in Philadelphia for 6 years. During my time in high school, I was exposed to grassroots organizing with Philadelphia Student Union, a youth-lead organization that exists to build power of young people to demand a high quality education in the Philadelphia public school system. During my time in PSU, I learned that Black and Brown students in Philadelphia are facing a major budget cut from the governor. The budget cut was not only impacting students by taking resources from them, but it's also creating violence within schools. I also learned that the only way to fight back is to organize so our voices can be heard…so my organizing journey began. Two years ago, I went to Community College of Philadelphia. And for work-study, I joined VietLead – a nonprofit organization serving the Vietnamese and Asian communities in Philadelphia and South Jersey. I worked with Vietlead for two semesters as a college organizer and farm assistant manager for the youth program. Throughout the two semesters, I learned about Food Sovereignty and Food Justice Movement works. And I was very exciting to continue my organizing journey with different lens. After the first year, I made an important decision in my life to take a gap year from school. I wanted to have more capacity to work with my community and find what I really want to study in college. I learned about the Seeding Change fellowship through last year's cohort of fellows and they encouraged me to apply for this great experience. By being a fellow this year, I hope to meet and build relationships with other folx that are doing organizing work around the country.
Mykhou Vue [she/her]
Hometown: Marysville, CA
Placement: HIP
Hi! I'm Mykhou. I go by she/her/hers, I'm from Marysville, CA and my host site will be Hmong Innovating Politics (HIP) from Sacramento, CA. Growing up as a second generation Hmong American as the youngest daughter in a family of ten, I struggled with my identity and my pathway. My family was low-income and we lived in an at-risk area. Despite the language barrier for my parents, I was able to flourish thanks to their wisdom. Thanks to my brothers and teachers, I was able to find my passion for art and dance. As a fellow, I want to utilize my strengths and skills to enable others to find their voice and use it too!
Lusi Wang [she/her]
Hometown: Guangzhou, China & Milpitas, CA
Placement: CPASF
I'm currently a student at UC San Diego where I study Sociology and Ethnic Studies with a minor in Education Studies. My family immigrated to the US when I was young, knowing very little English and very little people. My call to action occurred when my family and I were almost forcibly evicted from our apartment in my senior year of high school. Without grassroots community organizing, we wouldn't have been able to keep our home. This experience introduced me to the power of grassroots community work and has demonstrated to me that change must begin at the community level, by the community and for the community. Through this fellowship, I hope to learn more about community organizing and gain more experience in doing so, so that I can take what I'll learn back to my community in the Bay and in San Diego to work with marginalized communities in resisting and changing structural barriers and social institutions that aim to perpetuate social inequity.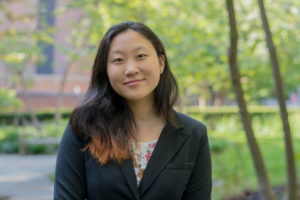 Melinda Wang [she/her]
Hometown: San Diego, CA
Placement: Vietlead
My name is Melinda Wang (she/her/hers) and I'm from San Diego, CA. I've gone to school in Philly for the past four years (just graduated!) and am ready to continue my work with VietLead this summer!
My path to organizing has had its own twists and turns, and I can't fully express how grateful I am for the Asian-American studies program at school and how empowering it has been to find the vocabulary to better share and understand my own experiences. I also really appreciate all those who patiently guided me and invested in me, and I want to continue growing my own abilities in order to help others in their community work (so this fellowship is a perfect fit)!
As a Fellow, I'm ready to build power with other Seeding Change folks and learn from their rad experiences! In the future, I want to continue to uplift and empower underrepresented or underserved folks in the Asian community and beyond. I'm sure no matter where I go, the organizing and community-building skills I learn from this Fellowship will be applicable!
Rosa Wang [they/she]
Hometown: Weston, FL
Placement: APIE-LA
As a second generation Chinese American growing up in the suburbs of south Florida, I wasn't really encouraged to develop my Asian American identity. While there was no shortage of east Asian, Desi, and Latinx students in my schools, and while I had a tight-knit Chinese and Taiwanese community outside of school, assimilating to the American Dream was still the prevailing attitude of my parents and peers alike. It wasn't until I decided to participate in the Asian and Pacific Islander (API) leadership program provided by the Asian Pacific American cultural center at my university that I was able to nurture my identities as a proudly queer Chinese American, find community with other queer API folx both on- and off-campus, and begin leading student organizations fighting for intersectional social justice. With API Equality-LA and the opportunity Seeding Change is providing me, I hope to get more involved with the thriving Asian activist communities here in L.A., build community for queer API Angelenxs, and strengthen relationships with other marginalized peoples in this lively and lovely city.
I am a third year undergraduate student at the University of Southern California, and I use they/them/theirs or she/her/hers pronouns.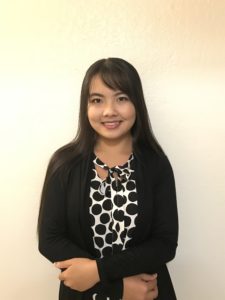 Nalee Xiong [she/her]
Hometown: Merced, Fresno, CA
Placement: HIP
I have a strong passion for social justice, environmental justice, women's rights, and human rights. I also have a life-long interest for physical science, in the future I want to promote STEM majors in minority communities. I am an environmentalist and participate in small changes, that has big impacts, to reduce my carbon footprint. One of my recent talent is painting, this has helped me cope with stress, reset my brain and thoroughly think about my ideas and goals. I was raised in a low-income neighborhood and always had an ambition to support my community. These communities are deeply affected by their surroundings, no human being should lack the basic need for their well-being. I understand education is difficult when what is called home, is affected by homelessness, violence, and police patrolling, because I, too have faced this. Moreover, as a Hmong woman, I always resist the "roles of a women," I refuse to accept that a woman is tied to household responsibilities. In my household I normally protest "my duties" as a daughter. Today, I advocate for such injustice to peers who don't yet understand. My pursuit for social change began at a young age, being exposed to poverty is not a flaw in my life, but an opportunity to persevere, to be strong, and an eye-opener for a revolution. Being a fellowship for HIP, I hope to network with new peers and to meet colleagues who are passionate about their education and about social change. I also look forward to understanding myself more. I admit that such work is never easy, but if we only take the road that is simple, how will we thrive.